But grow in the grace and knowledge of our Lord and Savior Jesus Christ. To him be the glory both now and for ever. Amen. 2 Peter 3:18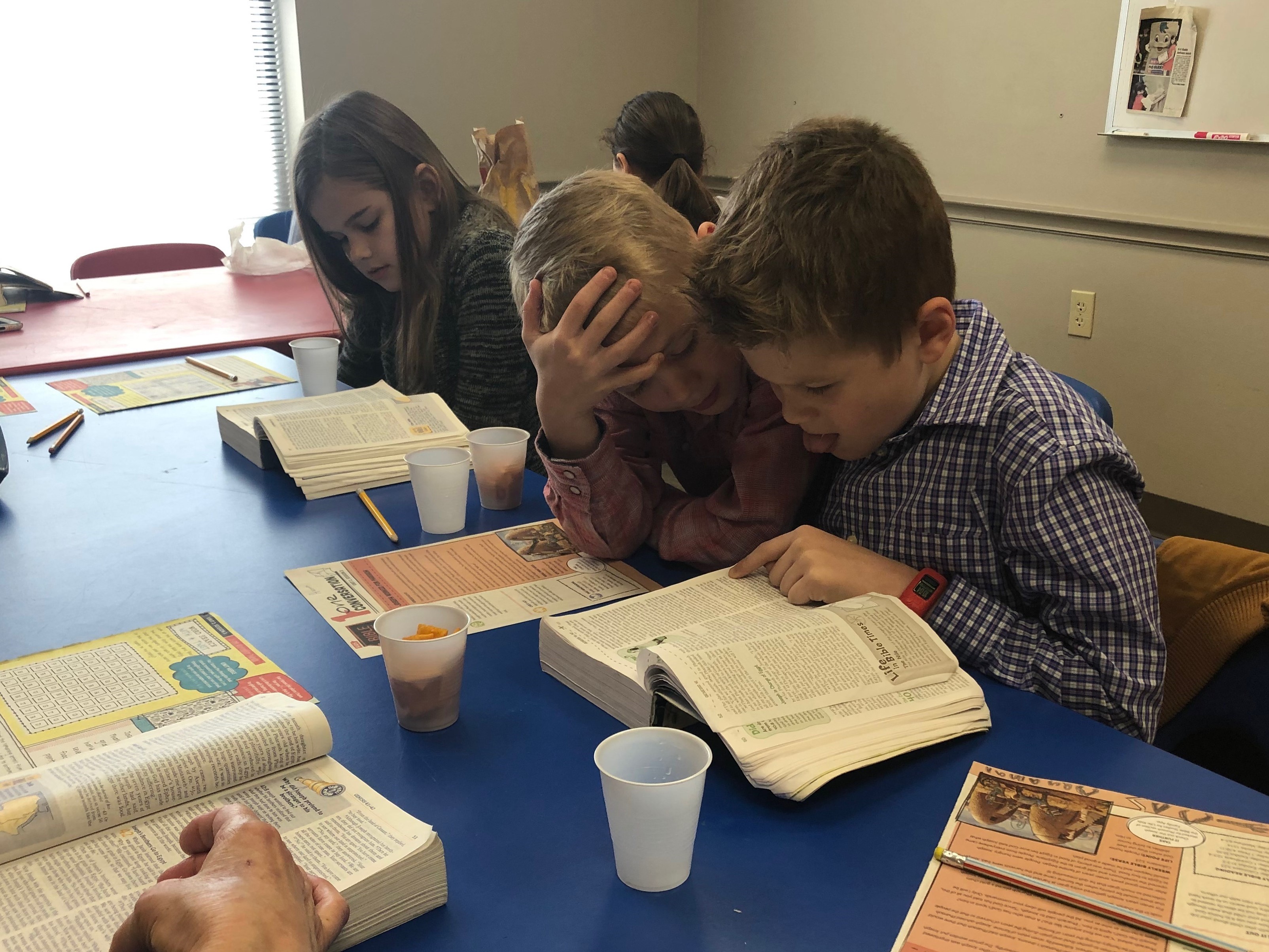 For the past few weeks, we have been looking into the ways that children learn and grow in their knowledge and understanding of the Bible at different ages and stages of development. Today we are going to focus attention on the young school-age child – 1st through 3rd grade.
One of the big differences between this age group and preschool/kindergarten-age kids is the ability to read independently. Younger children enjoy being read to – but now, the kids can read the Bible on their own! What a giant leap that new skill brings to your child's life!  He now has a new and powerful way to access the Bible on his own.
Young school-age kids who have been taught Biblical truths through their preschool years now see Jesus as a friend and helper.  They understand that it is personal – that Jesus loves them individually.  It is during this stage of development that some kids make the life decision to accept Jesus as their personal Lord and Savior.
Reading and learning from the Bible is enjoyable at this age. This is the perfect time to plan a special trip to a Christian bookstore where your child can choose his own Bible. Make a day of it, as this is a big step forward in your child's spiritual development and should be noted as such.
Kids in this stage of development are beginning to understand the concepts of sin and its consequences. Developmentally, this is the age of "law and order" where kids understand that there are rules and that if rules are not followed, there are consequences. They become very concerned about the concepts of right and wrong, good and bad, fair and unfair. You see it when they're playing games. If someone "cheats", there is quite an uproar about the infraction of rules. At this stage in life, kids take comfort in a world that has order, structure and clearly defined boundaries for behavior.
Because they can read, they are able to look up passages of scripture and find the answers to questions that are posed to them about what the Gospel says. They may not understand how to apply the answers to their own lives, but this is just the beginning of a lifelong learning process.  I'm still working on that myself from time to time, aren't you?  These kids are in the beginning stages of learning how to use scripture as a guide for living every day.
One of the delightful things about young school-age kids is their thirst for knowledge. They want to know more about everything, including God and Jesus and His plan for our salvation. We have a golden opportunity during these years to engage our kids in conversations about the scripture passages they are reading.
A tool that is available to you at FBC Rockport to help with these conversations is the activity page that your children's LIfe Group leaders send home every Sunday. All the kids in our Life Groups, from babies through fifth graders, study the same Bible story each week in their Bible Studies for Life curriculum. The Children's Worship Bulletin that is available to your school-age child to take into worship service also focuses on the Life Group lesson for the day. And Children's Church activities reinforce that same Bible passage. So by the end of the day, there is a lot of material for you to discuss as a family!
For more information about the Levels of Biblical Learning, go to www.lifeway.com