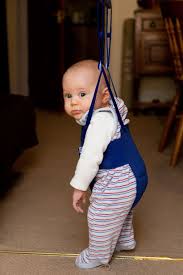 Your baby is an amazing miracle, fearfully and wonderfully made. God equipped her with all the things she needs in order to be able to grow and develop, learn and love. All you need to do is listen, watch, learn and follow her cues!
But today's parents are bombarded by so much advice from so many places. Friends, family members and the media are very busy telling you what your baby needs. YouTube videos, social media posts and tons of emailed ads tell you about the latest, greatest baby product that will make your baby smarter, stronger, more secure or better in some way. Does it all have you thinking you need to buy another gadget or expensive piece of baby equipment in order to be a good parent?
If this is you, just step back for a minute, and think about what God put in place when He formed your baby in the womb. Your amazing baby is already designed for development to take place naturally, without the need for gadgets and equipment.
Our baby gadget and equipment-obsessed culture has led to a recently defined syndrome. It is called Baby Bucket Syndrome or Container Baby Syndrome – CBS. CBS is a serious problem that is becoming more and more common! CBS results in head and facial deformities, failure to develop muscular control and strength, issues and delays in the development of speech, vision, hearing, thinking and learning and is even linked to childhood obesity.
So what exactly causes CBS and what can you do to prevent it? CBS is caused by confining babies to spaces that keep them from moving and exploring their environment. Containers that are commonly used include:
– Infant carriers
– Car seats
– strollers
– swings
– jumpers
– bumbo seats
– swaddling that includes the lower part of the body
– bouncy seats
– high chairs
– walkers
– positioning pillows
– baby rocking chairs
– attachment slings and wraps
Let's take a deeper look at these items. Some of these items are pretty important for life in a mobile society. Others … not so much.
Infant carriers, strollers and car seats are items that you probably really do need for transportation. But that's what they're for. Transportation. They are not for sleeping or keeping the baby quiet or any other purpose. Letting babies sleep in these containers presents the risk of suffocation and the development of neck problems in addition to leading to CBS. So take baby where she needs to go in a carrier, stroller or car seat – and take her out and put her on her back on a safe, spacious flat surface when you arrive at your destination!
Swaddling can be helpful for a fussy baby when he is very, very young. But swaddling needs to be done correctly in order to prevent causing CBS. Swaddling should not restrict movement of the hips, knees, legs. ankles or feet. Leave the lower half of the baby's body free for movement.
Slings and wraps can be helpful for transportation. Attachment parenting is a popular idea that might resonate with you. Some of the concepts promoted by Attachment Parenting theorists are ok, especially for very young babies. But regardless of your baby's age or your desire to implement Attachment Parenting in your home, it is still not good for his development to be carried about all (or most) of the time. Use your sling or wrap when you're going places – and then let your baby get down and have some time, space and opportunity to move his body without restraint.
High chairs might have a place in your home. I personally prefer low chairs for babies who are able to sit up on their own. But you might find it more convenient to use a high chair for feeding time. As with the other items, its intended purpose is feeding. Just feeding. When feeding time is over, take baby out of the high chair.
The other items on the list – swings, jumpers, bouncy seats. bumbo seats, walkers, positioning pillows and baby rocking chairs are all unnecessary and potentially harmful pieces of equipment that do nothing for your baby's health, learning, development or well-being. If you have these in your home, please consider taking them to the dump.
If you don't have them, hooray for you. Save your money and invest in something much more valuable – a playpen or play yard where your baby can safely play and explore the environment by freely moving about. And when your baby will be safe from pets and older kids at play, put your baby on the floor and let her grow!
Just take a deep breath, relax and enjoy watching your baby develop naturally into the strong, secure, smart and competent person that God intends him to be!
This is Dianne Miller Nielsen, Children's Ministries Director at First Baptist Church Rockport. If you have parenting questions or concerns, that you would like to see addressed here, send me an email at children@fbcrockport.net.